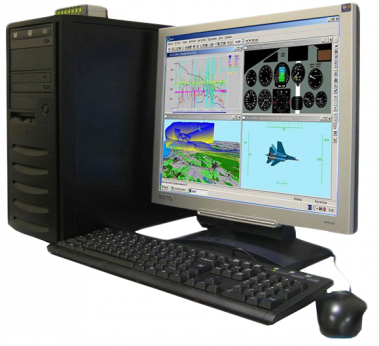 Stationary ground system "Topaz-M" on the basis of laboratory-type personal computer is designed for indoor and objective control laboratory application at base and operational airfields.
Configuration:
General software: Windows XP Pro, MS Office XP Pro (MS Office 2003 Pro).
Special software: "СКАТ" as configured by Customer.
Workstation comprising:
- System board.
- Central processing unit (minimum 2.8 GHz ).
- Random access memory (minimum 512 Мb).
- Hard disk drive (minimum 80 Gb).
- 3.5" floppy disk drive (1.44 Mb).
- CD-ROM drive.
- Video card (minimum 256 Мb).
- LC-display.
- Keyboard.
- Mouse.
- Uninterrupted power supply.
- Read-write device PCMCIA.
- Printer (A4).
- Power-line filter.
Operational documents and spare parts.
Additional equipment (options):
Rewriting device "Adapter T-23LK".
USB interface card.
Module UVS-3M.
Rewriting device USI-TMB.
Specifications:
| | |
| --- | --- |
| AC supply voltage (V) | 220±10% |
| AC supply frequency (Hz) | 50±3% |
| Power consumption (kW), maximum | 0,6 |
| Time of operation from UPS (minutes) | up to 15 |
| Time of system readiness for operation (minutes), maximum | 5 |
| Time of continuous operation (hours), minimum | 24 |
Operating conditions:
| | |
| --- | --- |
| Operating ambient temperature (°C) | +5...+40 |
| Limiting temperature in deenergized state (°C) | -50...+50 |
| Relative humidity at t=+25°C (%) | up to 80 |
| Atmospheric pressure (mm Hg) | up to 455 |
| Atmospheric pressure when transporssted by air (mm Hg) | up to 170 |